School Visits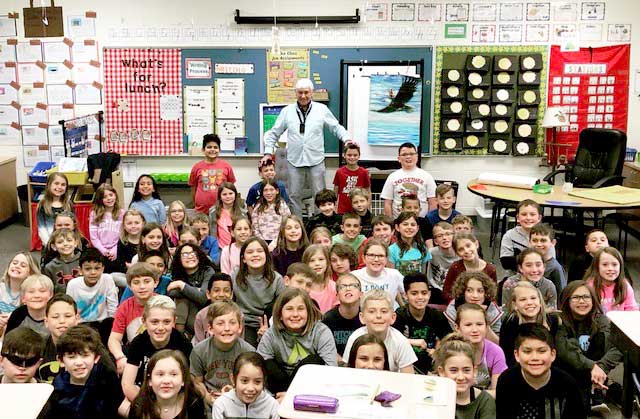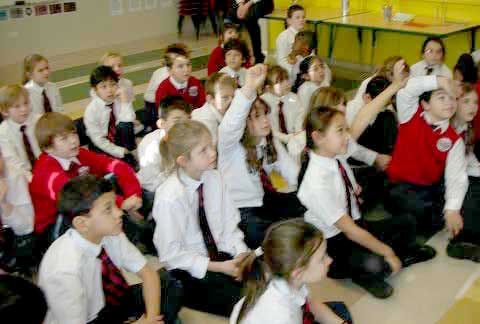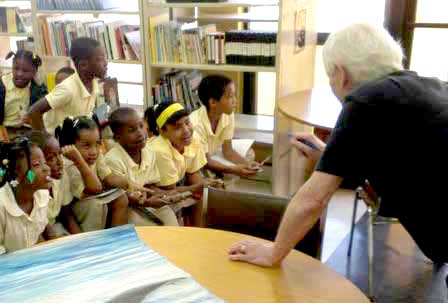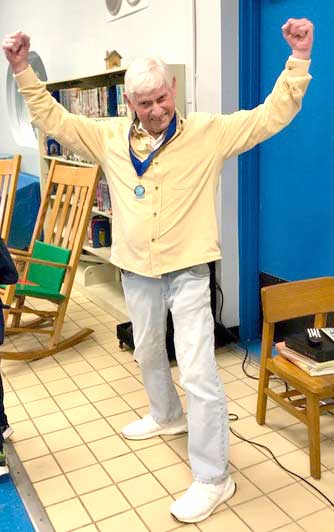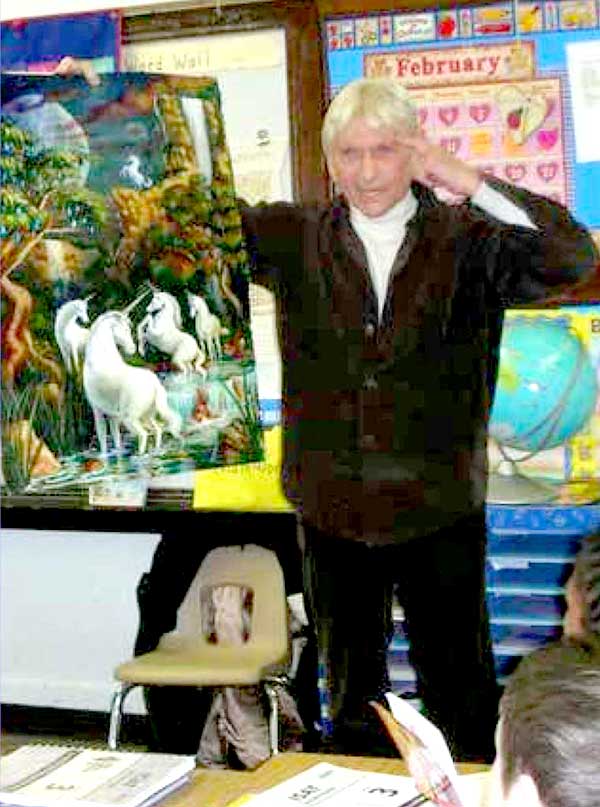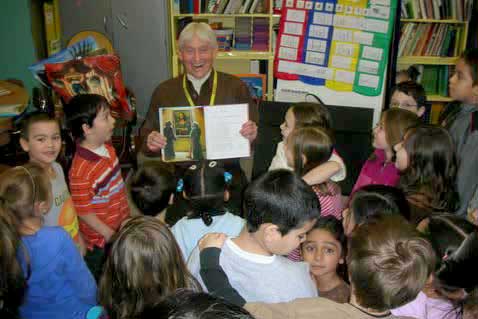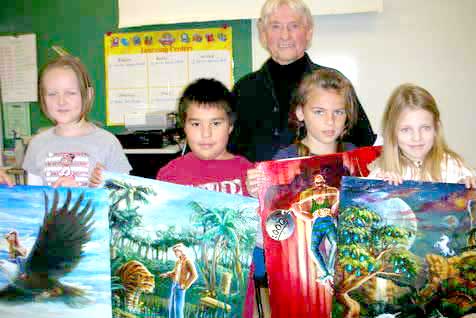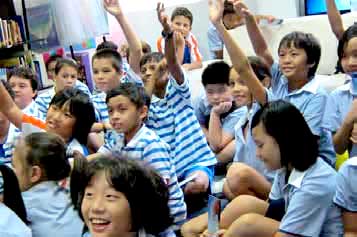 I have done these readings and discussed imagination with great success at many, many schools, both public and private, preschool to high school, all over the United States and beyond, from St John in the US Virgin Islands to Kauai in Hawaii and on, as far away as Ho Chi Minh City, Viet Nam. I will be happy to furnish names of contacts and schools.
I have appeared on TV doing my readings and have been interviewed on the Today Show in reference to my character, Marceau, and his best friend, Majesty the eagle, and have been honored at the Chicago Public Library, Carl Sandburg Awards dinner in 2012. I read often for students supported by United Way, Cabrini Green Tutoring Program and WITS Chicago in the
inner city schools.
There is no charge for my visit. As a matter of fact, pre- and hopefully post-Covid, for every class reading, each kid will get their own hard cover book to take home, and the school will receive the original series, The Flights Of Marceau, again at no cost to the school. I do these readings for pleasure, not profit."
– author Joe Brown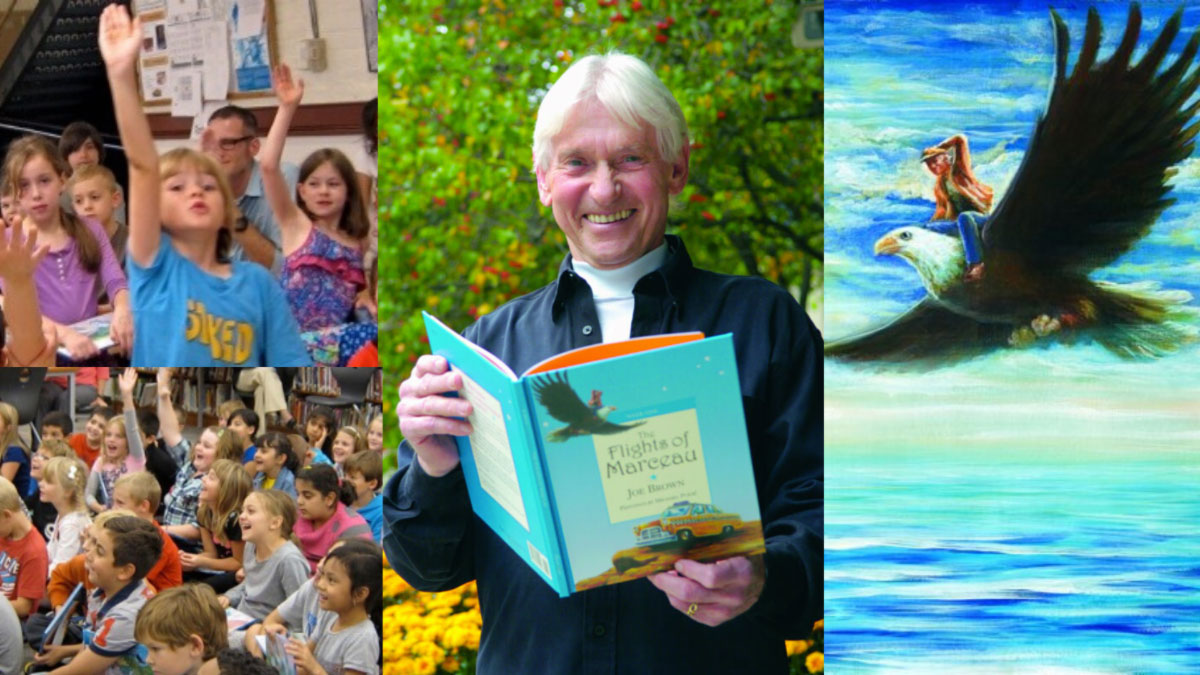 My father, Joe Brown, has joyously been doing virtual readings since the beginning of COVID. We were talking one day and I said "Dad, since you won't be invited to read in classrooms for awhile, how about I try to get a group of neighbors with kids together for you to do a virtual author reading". He liked the idea.
We had just come back from a trip to San Diego where I got to see him read to an auditorium of kids. It was so magical! I never tire of watching his excitement and enthusiasm in sharing his craft. He has been doing author readings for more than fifteen years and has read to my kids and hundreds of classes over the years.
He is one of the most creative people that I know. Although he doesn't have an education degree, (he was a professional lawyer for 50 years) he is an authentic educator of the kids he encounters. He inspires them to write and tap into their vast imagination. Given our current environment, kids need now more than ever to tap into their creative spirit.
Given that schools have closed, he has recently pivoted to an all online platform. So far, he has read to classes all over America in places such as Arizona, New York, New Jersey, San Francisco, Chicago, Omaha, and and as far away as Elmina, Ghana, Africa.
He'd love to read to your 3rd-6th graders. He is booking 45 minute -1 hour sessions throughout the school year. He is happy to read to groups in the summer months as well. It's easy for teachers and educators to book him and tie him into their creative writing curriculum.
He is a published author (Scholastic Publishing) and reading his stories to students is his favorite thing to do! In addition to reading aloud from one of his most loved books, he will teach your students/children about imagination, his writing process, and how he came to be a published author! Depending on the age and flow of the class the kids may even be given an opportunity to create an original story as a collective group.
I am proud to share my incredible father with you. These stories began when my siblings and I were little. They were our bedtime stories, and I know your kids will love them just as much as we did. Besides school readings, he is also available to work with organizations that work with Children, such as Children's Museums, Children's Hospitals, Children's Zoos, Libraries and Tutoring Programs.
We look forward to connecting with you.
Please email us at:
[email protected]
[email protected]
With Creativity & Love,
Linda